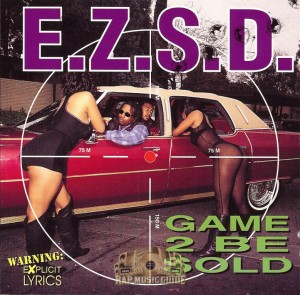 At Rap Music guide we're always being asked to help people identify if they have a bootleg in their collection, one of the most requested is the E.Z.S.D. Game 2 Be $old album that was released in 1995 on Mobboss Records. Since the market is totally flooded with these, we're here to give you the facts, and a few quick pointers on how to tell which version you have.
Just to clear the air, this re-release was not authorized by EZSD (E Double Z) & (Skip Dog), and they both have no idea who is pressing these up! There are several main ways to tell the difference between the original pressing, and the fake re-release, so here they are!
If you have a sealed copy, and would like to know if its authentic or not by just outside appeances, here's a couple tips that will help you out. First make sure the spokes on the Cadillac are blingin' and shiny. The re-release is noticeably darker. Also make sure the white wall is totally white, you should be able to almost make out the letters on the white wall of the rear tire. When you turn it over and look at the rear insert, the fake re-release is noticeably more blurry and faded looking, it almost makes your eyes hurt. Take a close look at the bar code, it should be crisp and clean. If you're still not sure of its authenticity, you better open it up.
Below are scans of the original CD pressing top and bottom. If you click on the cd you can view the full size image to see the ring code. As you can see in the photo the press code begins with DIDX. If you have this same ring code as in the photo below I'm 99% sure it's the original!
Below are scans of the fake bootleg Re-release top and bottom. As you can see the CD is totally printed offset. To top it off the bullet holes on the cd have purple paint spots or splatters where there should be silver bullet holes like you can see on the OG cd. With all of these obvious flaws you should now easily be able to tell which version you in fact have!
No matter which version you have, this album is still considered a Bay Area mobb style classic. To view the tracks list, and also see scans of the inserts including the rear traycard, checkout the official entries for them in the Rap Music Guide database. E.Z.S.D. Game 2 Be $old (Original) & E.Z.S.D. Game 2 Be $old (Bootleg). Also don't forget to check out the official website for Skip Dog of E.Z.S.D., his record label is Mayhem Family Entertainment, check it out and support your local artists!
E.Z.S.D. Game 2 Be $old Bootleg vs. Original
was last modified:
May 26th, 2016
by