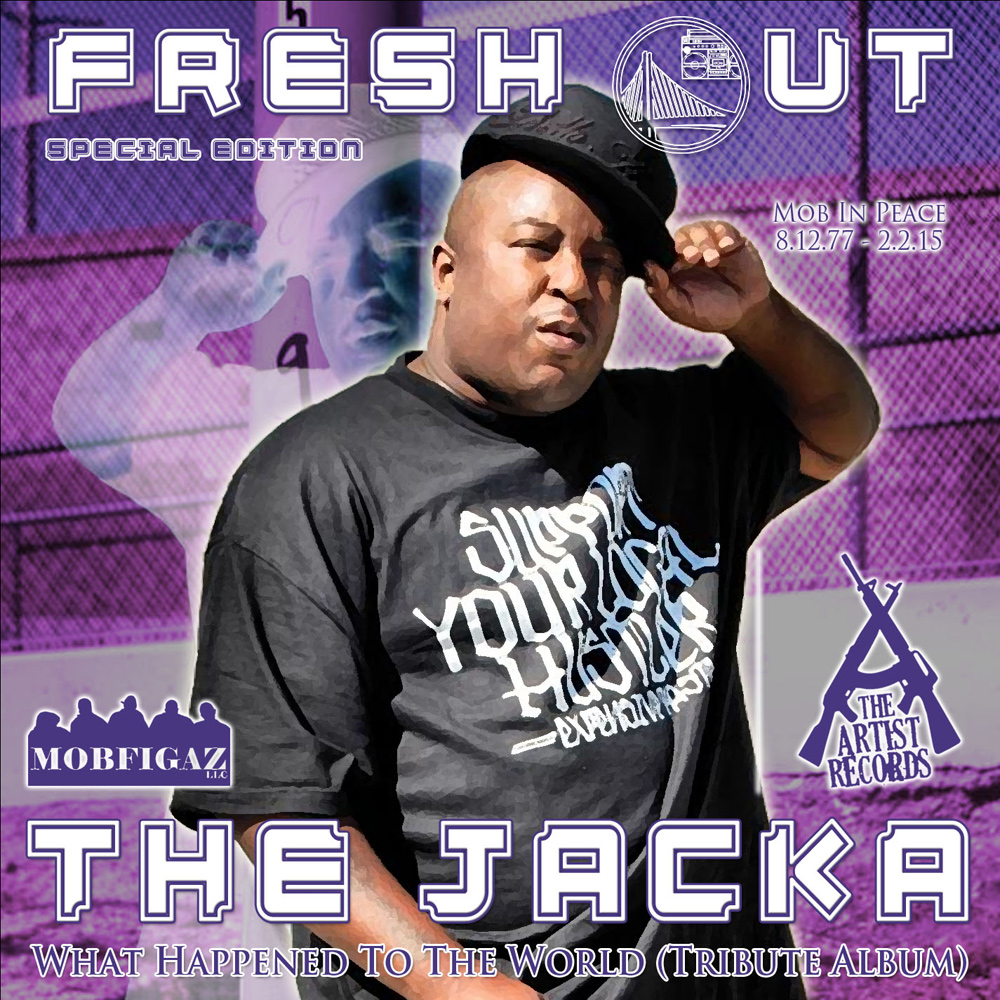 The news of The Jacka's passing was, and still is a tough pill to swallow for rap fans in the Bay Area and all over the world.
To help remember, appreciate and celebrate The Jacka, we've compiled a special tribute edition of Fresh Out, dedicated to the man behind the voice we listen to every day.
Selections of this tribute album were taken from his solo, duo, group and compilation material; 90 albums spanning 17 years.
The Jacka was a one of kind artist, who was loved and revered like no other by his friends, family, community and fans worldwide.
Rest In Peace Shaheed (Dominic L. Newton) Akbar aka "The Jacka."
Click the following link to download Fresh Out – The Jacka: What Happened To The World (Tribute Album) FREE!
The Jacka Tribute Album: Disc One
What's Happening World feat. The Jacka
Million Miles feat. The Jacka
The Jacka Blues feat. The Jacka
This Is The Mob 4 Life feat. The Jacka, San Quinn, Husalah, Messy Marv
Barney (More Crime) Remix feat. The Jacka, Cormega, Rydah J. Klyde
Jacka Zip feat. The Jacka
Everyday feat. The Jacka
All We Do (Remix) feat. The Jacka, Laroo, J. Stalin
Gang Starz feat. The Jacka, A-One
Pigeon On T-Shirt feat. The Jacka, Husalah
Go Cop Whateva feat. The Jacka
California Gangsta feat. The Jacka, Fed-X
Da Underworld feat. The Jacka, B-Luv, Macke
From The Hood feat. The Jacka, Traxamillion, Husalah, San Quinn
Mobbin feat. The Jacka, Sleepy D, D-Lo
Turned Out (Action) feat. The Jacka, Akata
Won't Be Right feat. The Jacka, Cellski
Marshawn Lynch (Remix) feat. The Jacka, Rick Ross, Mistah F.A.B., Shady Nate, The Pack
Tailor Made feat. Mob Figaz
Trap House feat. The Jacka, Berner, Don Toriano, Goldtoes
Goin 4 Blood feat. The Jacka, AP.9, Husalah
Devilz Rejectz feat. The Jacka, Ampichino
The Jacka Tribute Album: Disc Two
Money feat. The Jacka, Husalah
Glamorous Lifestyle feat. The Jacka, Andre Nickatina
A Gangsta's Gangsta feat. The Jacka
Dope feat. The Jacka, 12 Gauge Shotie
Slap the 55 Round feat. The Jacka
M.O.B. feat. The Jacka, Smigg Dirtee, Mobb Deep
Been Awhile feat. Dubb 20, Husalah
Knockin Niggas Off feat. The Jacka
Real Niggaz feat. The Jacka, Lenox, Dojah
Real Niggaz feat. Mob Figaz, C-Bo
Mob Shit feat. The Jacka, Pimp Pooh, Laz the Boy, Peezy
Can't Loose Again feat. The Jacka, Laroo, Big Brim, Boo Banga
My Middle Name Is Crime feat. The Jacka, Andre Nickatina
Mafia feat. The Jacka, Big Hollis
Move Mean feat. The Jacka, Young Lean
Angel Dust feat. The Jacka, Joe Blow, Reign
Aspen feat. The Jacka
Storm feat. The Jacka, Cormega
Mob Reflections feat. Joe Blow
Better Than All The Rest feat. The Jacka
Snowflake feat. The Jacka, Evangillest
Sunnah Boys feat. The Jacka, Freeway, Killer Mike
The Jacka Tribute Album: Disc Three
It's The Jack feat. The Jacka
Boomin System feat. The Jacka, Bo Strangles
Ridin High feat. The Jacka, Joe Blow, Berner, Fam Syrk
This Is For feat. The Jacka, Yukmouth, Pretty Black
Dancefloor feat. The Jacka, WOK
Freestyle feat. The Jacka, Husalah
Funk feat. The Jacka, Messy Marv, Dubee
Tonite feat. The Jacka, Laroo, Lee Majors, Matt Blaque
Poed Up feat. The Jacka, Lee Majors
On Methazine feat. The Jacka
Cocaine feat. The Jacka, Husalah, Keak Da Sneak, Lee Majors, Messy Marv, Fed-X, Yukmouth, G-Stack, Dru Down, Rahmean, Cellski
Couldn't Be A Better Player feat. The Jacka, Lil Rue, Joe Blow
So Fly feat. The Jacka, Yay Boyz, Cellski, Trill Real
Daddy feat. The Jacka, Husalah, Mac Dre
Mac Hand feat. The Jacka
Girls Say feat. The Jacka
Cuz I'm the Mack feat. The Jacka
Our Heroes feat. The Jacka, Dubb 20, J. Stalin
Where Do We Go From Here feat. The Jacka, I-Rocc, Nilaja
Remember Me feat. Street Knowledge
I Want It All feat. The Jacka, Lace Leno
See It Thru feat. The Jacka, Kae-1, Ampichino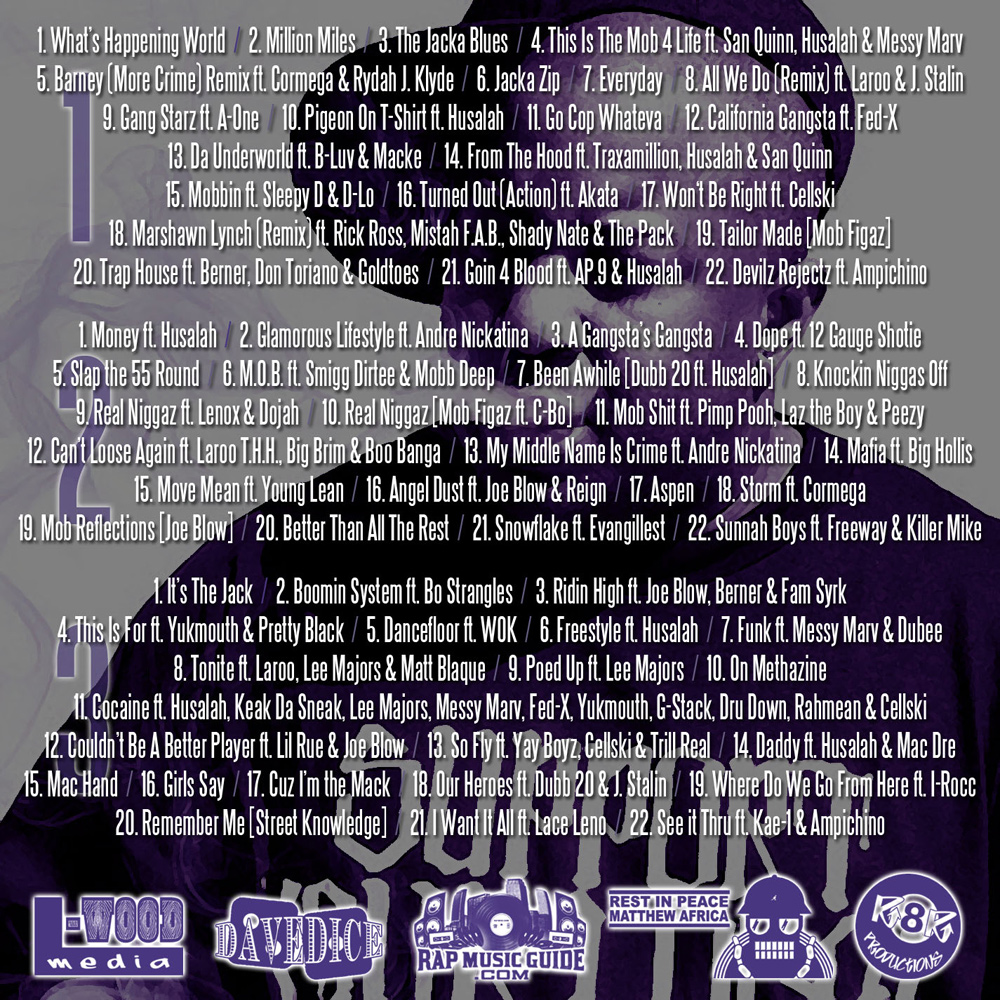 Fresh Out The Jacka Tribute Album
was last modified:
May 29th, 2016
by