L-wood is back with the newest installment of the Fresh Out series, and it won't disappoint!
Click the following link to download the album for FREE: Fresh Out Vol. 4
Fresh Out series compilations sample the latest underground rap resonating from the streets of Northern California. Past volumes one, two and three along with special HBK Gang & HD of Bearfaced editions are all posted to Rap Music Guide with free download links.
Please share them with everyone you know through social media, e-mail and blogging!
For those of you not familiar with R8R & L-wood, they have been releasing a series of classic albums segmenting California rappers in specific geographic areas for years, with such releases as; SFC: Sucka Free Classics, SAC: Nine One Classix, & East Bay Classics.
Along with other various mixes the duo has released a classic 4 disc mix compiled from cassette released material titled Northern California Trunk Tape Resurrection.
Intro feat. Clyde Carson
Major feat. ST Spittin, Mike Dash-E
Hot Girls feat. Mally Mall, Iamsu, French Montana, Chinx
Another One feat. Flammy Marciano
Drop Ice feat. Tendertrio
Bout Me feat. Neno
Hustlin feat. D-Rek, Chippass
MC Illin feat. MondreM.A.N.
Oakland (Remix) feat. Stubby Ent., Clyde Carson, Vell
The Game feat. Lil Rue
Real Talk feat. Joe Blow
Rompaughraphy feat. J. Diggs
Pound Cake Freestyle feat. Kurt Diggler
Pushing feat. Lil Joe, 6Hunnit BJ, G-Dirty
What We Been Doin feat. B-Legit, E-40
Stage feat. Nickatine Da King
No Sleep feat. Clyde Carson
Overdose feat. Philthy Rich, Stevie Joe, Joe Blow
Mobbin feat. Lil AJ, Lil Rue, Street Knowledge
Million feat. Mac J
Heat feat. NhT Boyz, Young Bari
They Don't Understand feat. Ditty Cincere, Lil Rod Da Goer, Lil Joe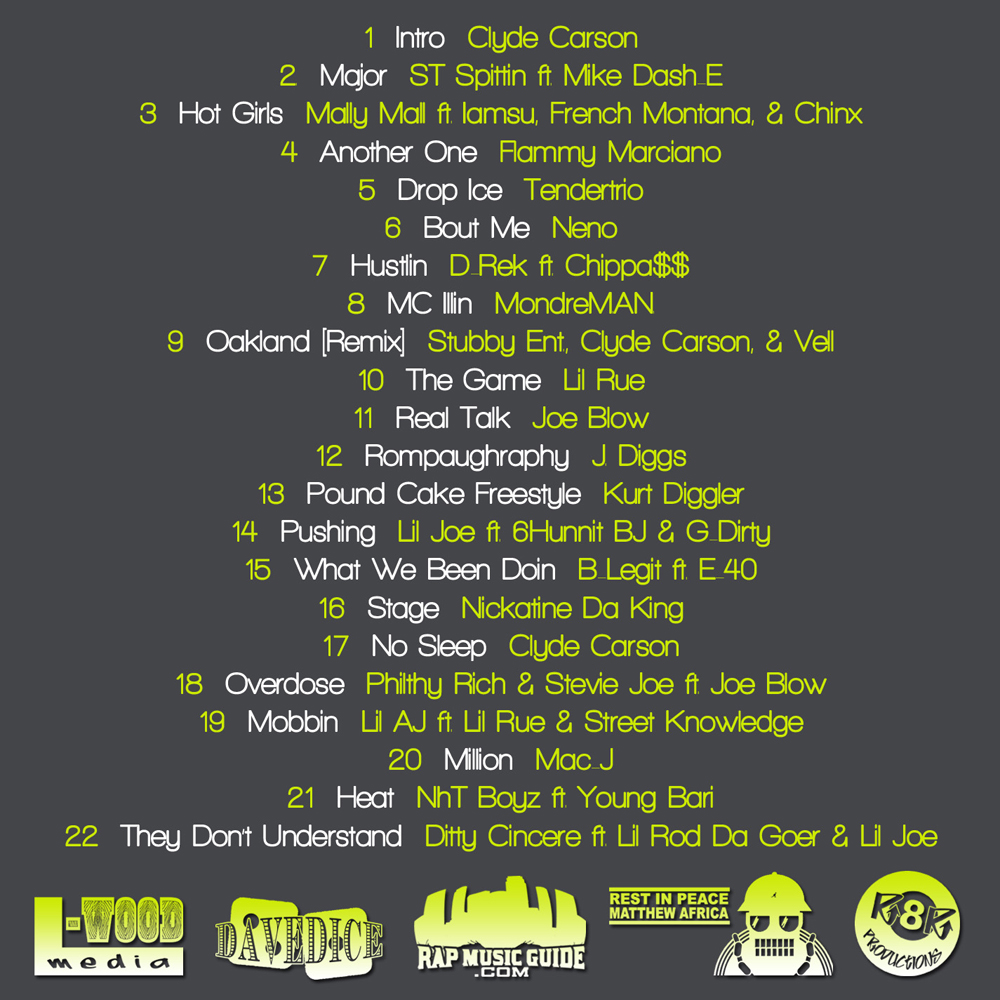 Fresh Out Volume Four
was last modified:
May 29th, 2016
by