Our friend Alex Pardee at Zerofriends conquered Comic-Con 2010 this year, and in his own words it was "squigglicious. Times ten. It was the exact opposite of the last 6 days in Mel Gibson's life. And I am ok with that." Since I can take that statement several ways, I'll let it ride for now. What I was mostly interested in was his meeting with Master P, The Ice Cream Man himself.
Alex was doing a few signings at other booths in addition to Zerofriends, like Color Ink Book (who debuted his new cover issue!) and Munky King, where he met…..
UUUHHHHHHHH, Nuh nah nuh nahhhhhh.
You can also see photo-bomb master (and "I'm With CoCo" Poster Creator) Mike Mitchell & Monster-Man Chris Ryniak peeking their mugs through, but they couldn't handle the platinum aura-bling that was coming from Master P & Alex Pardee.
I know, a picture with the Ice Cream Man himself is enough to jump for joy with No Limit, but here's the best part. He mentioned to Alex that he is dabbling in animation right now, and slipped him his business card, which is amazing!
Outside the Box Vision
Always one for quality, check out this sick 72 dpi design on 2 lb copy paper hand cut with second-hand scissors. Alex almost wished he designed this thing. When Master P passed him his business card, flashes of Alex's favorite scene in American Psycho drenched him, he couldn't believe what amazingness he was looking at. But alas…we move onward…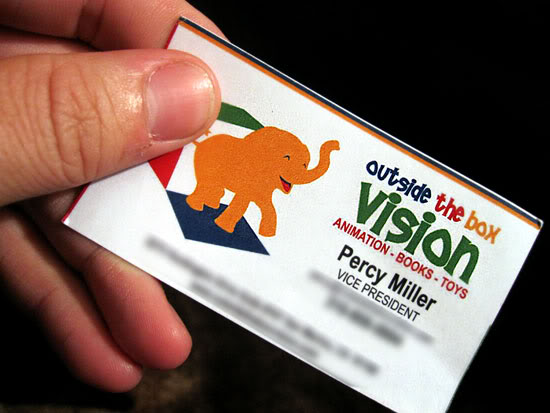 Master P The Ice Cream Man vs Alex Pardee Comic-Con 2010
was last modified:
October 17th, 2016
by