If you follow the Free Gold Watch blog, then you have probably seen the leaked photo of our new line of Rap Music Guide t-shirts that are in the works. If not, check out the article titled "Free Gold Watch Enterprises". We chose Free Gold Watch to help make our couture fashion dreams come true because their brand is not just a quick trend, but a phenomenon. Also because their clothing/printing store is conveniently located in San Francisco, CA right behind the famous Amoeba Records at 1767 Waller St. in the upper Haight. Our Rap Music Guide shirts will be available in December, which will be perfect timing for those of you who need to get your holiday shopping on.
Aside from being the official printer of the Amoeba Music t-shirts, Free Gold Watch counts rappers such as Berner, Evenodds, Town Thizzness, and SMC, the label that puts out music by rap artists such as The Jacka and Messy Marv, as some of their regular clients. As opposed to the more cost effective and widely used auto-press method of printing, Free Gold Watch embraces the manual press, which involves the human hand, eye, and the squeegee in order to produce a product that reflects the qualities of human creation. In a society that is constantly moving towards machines, perfection, and the removal of human involvement, we appreciate Free Gold Watch for their artistic rawness, imperfection and the preservation of man-made artistry.
Be sure to stay tuned, because Rap Music Guide is about to keep you fitted, and dipped in butter with our new line of freshly pressed garments. If you're interested in pre-ordering, please contact us directly, or leave a comment with your contact info and shirt size.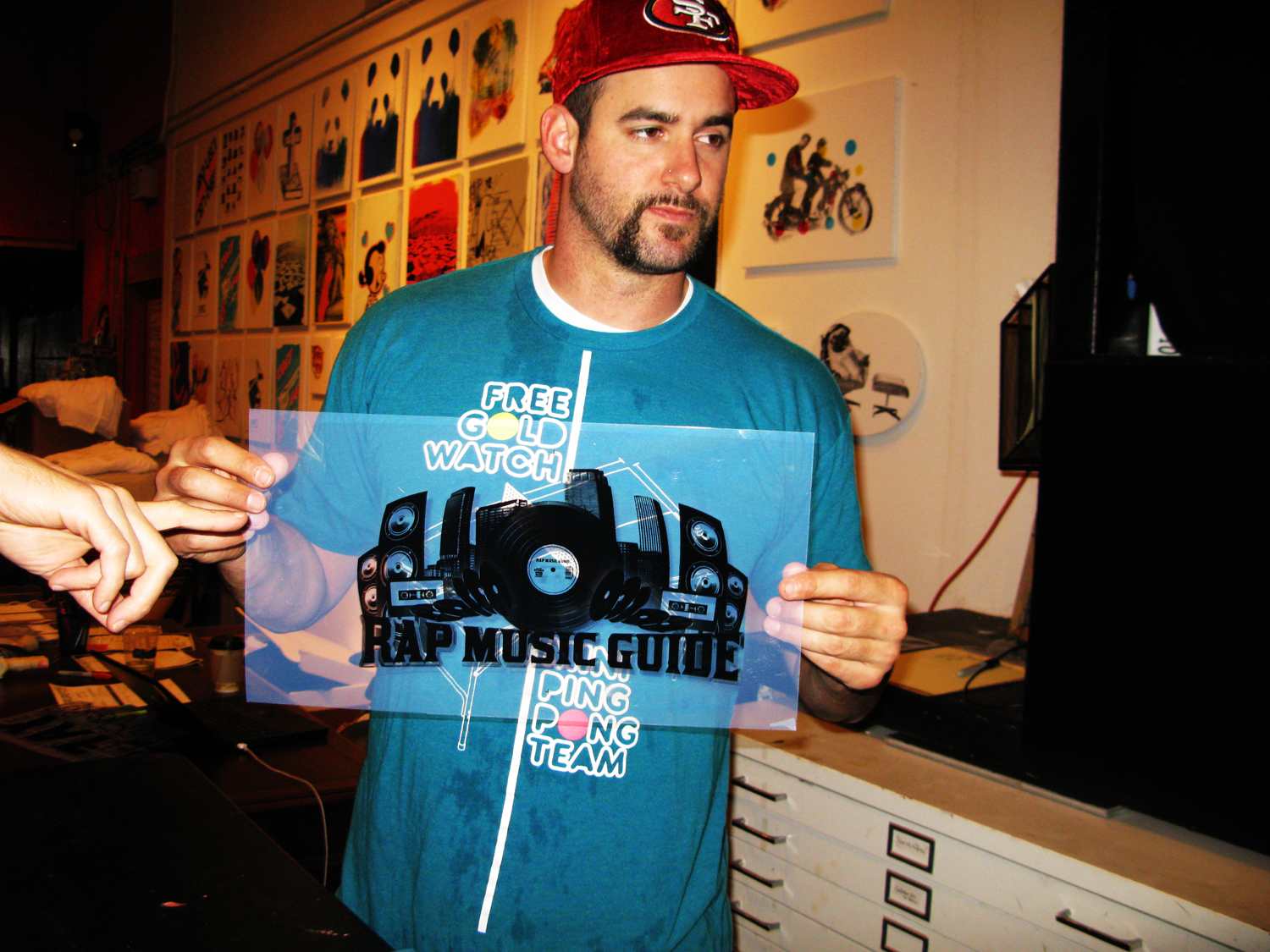 Rap Music Guide T-Shirts Coming Soon
was last modified:
October 18th, 2016
by