Crestside Classic (Mixed By R8R) by Djp_Mix on Mixcloud
To help promote the upcoming East Bay Classics limited edition double disc set, R8R has put together another free 80 minute mix dedicated to the rap artists from The Country Club Crest in North Vallejo, CA titled "Crestside Classic (Mixed By R8R)."
It's only fitting that R8R chose to use the movie "The Mack" to narrate the soundtrack to the Crestside Classic. The Crestside is known for bringing us three generations of Mac's which include; The Mac, Mac Dre & Mac Mall.
With production by Khayree, all three of the Mac's were a huge success and put the Crestside on the map. What laid that foundation was the early work of Khayree & The Mac in the 1980's. Unfortunately The Mac was murdered before he had the chance to reach his full potential.
The Mac and Khayree were inspirations for a young rapper by the name of Mac Dre who ended up dominating the rap scene in the late 80's through the 2000's. Even during Mac Dre's incarceration in the 90's he was still one of the biggest names in rap and arguably the most successful rapper from the Crest.
The third and final Mac is Mac Mall. Mac Mall was still a teenager when we first heard him on Mac Dre's Young Black Brotha album. He carried the torch while Mac Dre was serving time and he was able to continue the success of music with Khayree's production. Mac Mall played a huge roll in defining the sound and lyrics that described what life was like growing up on the Crestside of Vallejo.
In this mix you will notice the rappers unique sound, slang, delivery and creativity that was influenced by the everyday life in the Crestside. From the early recordings of The Mac, Khayree, Mac Dre and Coolio Da' Unda' Dogg to a new generation of rappers such as Mac Mall, Dubee, P.S.D. Tha Drivah and Young Lay, this mix is will keep your speakers slappin'!
Hard copies, which include split tracks, of this album and past mixes are available for purchase. Please contact R8R direct at djpmix@yahoo.com.
Stream on: Mixcloud
Download on: Mediafire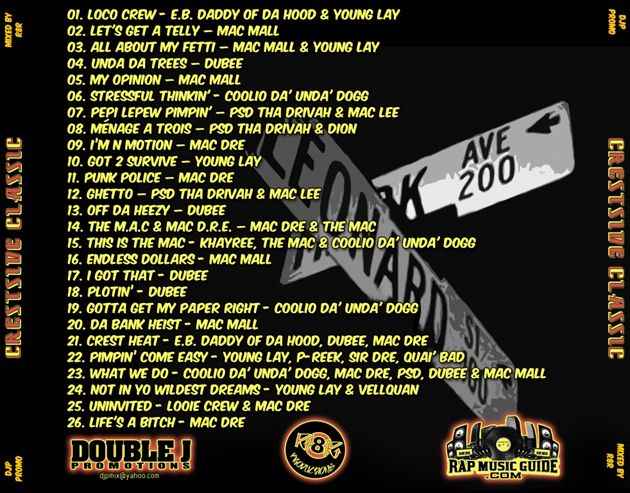 Crestside Classic Mixed by R8R: FREE Mix
was last modified:
May 29th, 2016
by