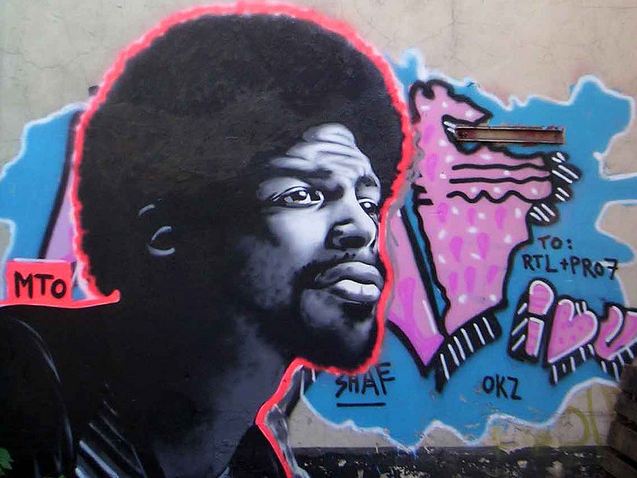 Gil Scott-Heron the poet and musician, renowned as the Godfather of Rap, died at the age of 62 from unknown causes in New York on Friday May 27th, 2011. The music community first found out about Scott-Heron's death when it was confirmed by the legendary spoken word artist's publisher Jamie Byng via Twitter with the tweet reading, "Just heard the very sad news that my dear friend and one of the most inspiring people I've ever met, the great Gil Scott-Heron, died today."
Highly regarded as one of the leaders and chief influences in the precursory stages of rap & hip-hop music, Gil Scott-Heron helped to define a turbulent time for African-Americans and black militarism in the 1970s with his well-known politically charged poem and song "The Revolution Will Not Be Televised", which is perhaps Scott-Heron's most notable work. His 1971 single from Pieces Of A Man has been sampled by hip hop artists and quoted in numerous albums.
Thanks to Twitter, the rap & hip-hop music community has been remembering the late artist. Eminem was among the first artist to recognize his inspiration, tweeting, "R.I.P. Gil Scott-Heron. He influenced all of hip-hop," while Chuck D shared the sentiment, "we do what we do and how we do because of you. And to those that don't know tip your hat with a hand over your heart & recognize." Chuck D also revealed via his Twitter account that he was to be featured on an upcoming project with Scott-Heron. Even Ghostface Killah asked everyone to "Salute Mr. Gil Scott-Heron for his wisdom and poetry!" adding, "May he rest in paradise." Snoop Dogg kept it simple posting, "#rip to 1 of tha greats gil scott heron."
Gil Scott-Heron's recording and performing career spanned four decades, with a discography of 15 studio albums, 11 compilation albums and 9 live recordings. In remembrance, here is an official music video titled "Me And The Devil" from the album "I'm New Here".
Gil Scott-Heron "Godfather Of Rap" R.I.P.
was last modified:
October 17th, 2016
by