Rap Music Guides R8R & L-wood have put together a free 80 minute mix to help keep our rap addictions fed. The mix is appropriately titled "Stuck In Traffic" and is a warm up to their upcoming East Bay Classics album that will be released as a limited edition double disc set. Until then, wear them speakers out slappin this mix while stuck in traffic!
1. Big Poohb & Young Willz – Dank Smoke
2. Rich The Factor – Parachute ft. Young Fe
3. Doesia Click – Chronic Bionic
4. 3XKrazy – Hood Smoke
5. Richie Rich – Pillow ft. Dewayne Wiggins & Rame Royal
6. Tha M.O.B.B. – Legalize It
7. Mr. Mostafah – Drop's On A 20 ft. Kilo, Playa P & The Double Up Click
8. Luniz – I Got 5 On It ft. Dru Down, Richie Rich, E-40, Digital Underground & Spice 1 (Extended R8R Blend)
9. San Quinn, Silk & Master P – High Fo X-mas
10. Lil E – Smokin The Dank
11. Marvaless – Bring The Bomb
12. Mr. Doctor – No Bitch
13. West Side Industry – Fienin For A Sac
14. Triple Beam – I Get High
15. A.M.W. – Gettin' High
16. Young D Boyz – Mr. Chronic
17. G-Ism & Kenny Mack – Smoke Fills My Chest
18. U.D.I. – Waiting To Inhale ft. Mark C
19. A-Town Click – Mile Hi Bomb
20. Mac Dre – I Need A Eighth ft. Da Looies & Dubee
Download: http://www.mediafire.com/?j0trvqkw9338r1i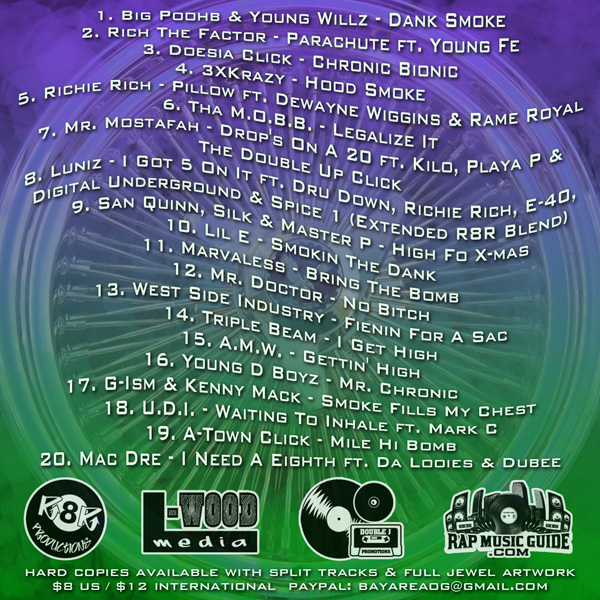 Hard copies (which include split tracks) on this album and past mixes are available for purchase. Please contact R8R & L-wood direct at djpmix@yahoo.com for further information. Feedback is also welcome. Here are the other available limited edition mixes for purchase, be sure not to sleep on these!